I am going to be honest, I have no idea what meze (meza?, mezze?) translates to. Since living abroad, I have had two different mezze experiences. I have had Lebanese meze and Cypriot meze. While mezze is slightly different in the community it is served in, the basic idea is that at the end of eating a mezze meal, you have consumed 10-15 small portions of the most traditional dishes that the country has to offer and you are stuffed and satisfied. It is an experience that you must have during your life – you will not regret it.
A note about my food pictures, they are not great, I apologize. The lighting in restaurants is never optimal, I hate being THAT FOREIGNER who is snapping pictures instead of enjoying the atmosphere and culture, and I am really interested in getting the food into my mouth as soon as possible. Never-the-less, I hope you enjoy.
Lebanese meze: I have had this style of meze a few different times and each meal has been different. All Lebanese meze menu items are small plates to be shared. Each restaurant does their own version of a meze menu but some of the common items you will see on all Lebanese meze include: Tabbouleh, Fattoush, Halloumi, Sausages, Hummus and Pita bread, Kibbe, French Fries, raw meats, and more. For a group of 4 or 5 we typically order 7-8 plates and that satisfies us. After living here for a few months I enjoy all parts of Lebanese meze, except the raw meats – haven't tried those and I don't think I ever will.
Every restaurant has their own version of table snacks. Nuts and carrots were this one's specialty. The pita bread is for the meal to come, to use to dip and grab food.
Fattoush salad – my favorite. It has mint, radish, an olive oil dressing and crunchy thin croutons for the top. My favorite is when a restaurant adds pomegranate seeds and juice into the dressing
What would a meze be without hummus?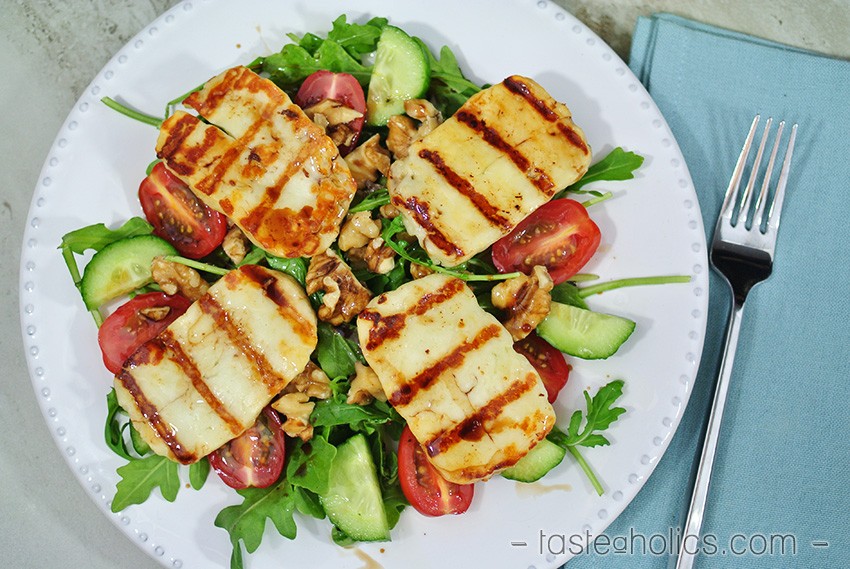 I don't know why I don't have my own picture of Grilled Halloumi – it is one of our favorites.
Sausage – some places serve it in sausage form, this one did a scramble
Kibbeh – Again, where my pic of this went, I do not know
Kebob – chicken and lamb. Expertly seasoned!
Although you can't see it, the view from our restaurant was lovely, beside a babbling creek
Cypriot meze: On our second to last night in the lovely village of Agia Anna during our visit to Cyprus, Zach and I went to a small village tavern for our Cypriot meze. When I asked the waiter what was included in the meal, he literally said, "We serve you everything that we have in our kitchen." And then he asked, "Are you hungry?" I was not starving as we were at the end of a very food-filled vacation but I had made sure that I hadn't eaten much earlier in the day. And 5 minutes after we ordered, the dishes started coming. Here they are, in order:
Beginning dishes: Fresh pita bread, lemons, olives, tahinosalata, yoghurt
Garlic bread
Grilled Halloumi Cheese (Zach's favorite)
Noodles and parmesean cheese – I think traditionally a ravioli dish is served
Courgettes with eggs (zucchini)
French fries – I tried to not each many because of all the other new and different food
Spicy sausages – one of my favorites!
Souvlakia – can be either a chicken or pork dish, this one was pork
Pork cooked in wine
I believe this is chicken but cannot find the name online, it was good though
Keftedes? I believe – they were good but not my favorite because of the seasoning
Deep friend eggplant
Grilled pork chop
Slow-cooked rabbit leg – Stifado – this was delicious and tender!
To sum it up – meze is a beautifully delicious and filling experience, no matter the culture it is served in. Meze is a meal to be shared with others and is a long and special experience. If you come to either country, Lebanon or Cyprus, you will not be disappointed in your meal options, I promise
~The Optimist